Strestonic⨁ MBiENS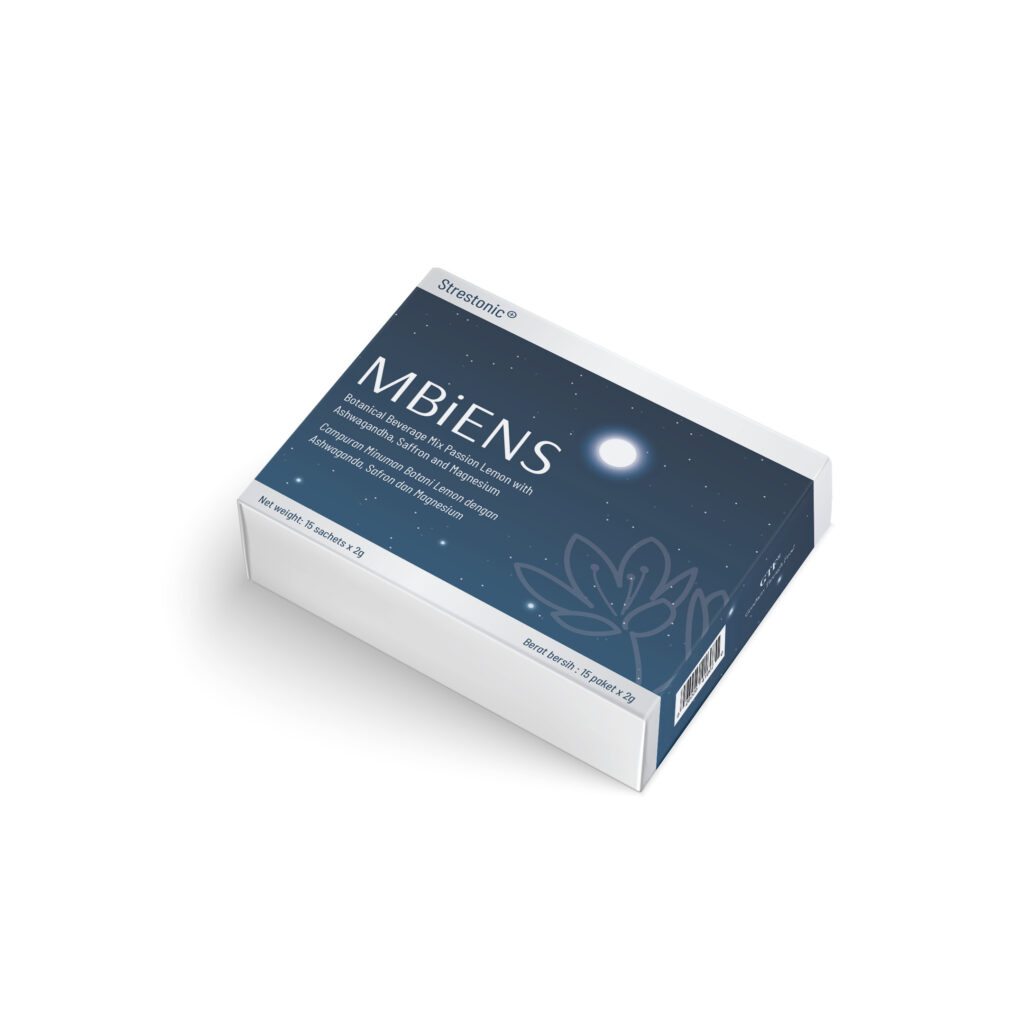 Beat the stress, sleep better and recharge with MBiENS!
The exclusive formula for Calm and Tranquility.
Same as electronic devices used nowadays, humans have to 'recharge' too. To be energized and productive throughout the day, a good sleep quality, positive mood and calmness are crucial.
MBiENS, an exclusive botanical blend with Saffron, Ashwagandha and Magnesium and helps to
Improve sleep quality by 34% in after one week's time, and 50% in one month time
Reduces the stress hormone by 27.9% in two month's time
Promote relaxation and calmness
MBiENS: Unique features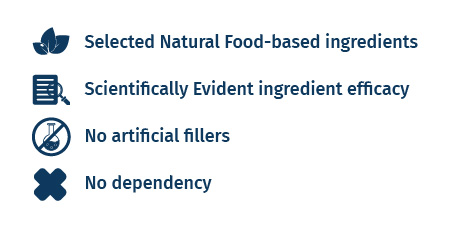 The Benefits
While boosting the energy at the daytime for better performance, it is important that we need a calm and good sleep quality at night to prepare the body for next day's challenges.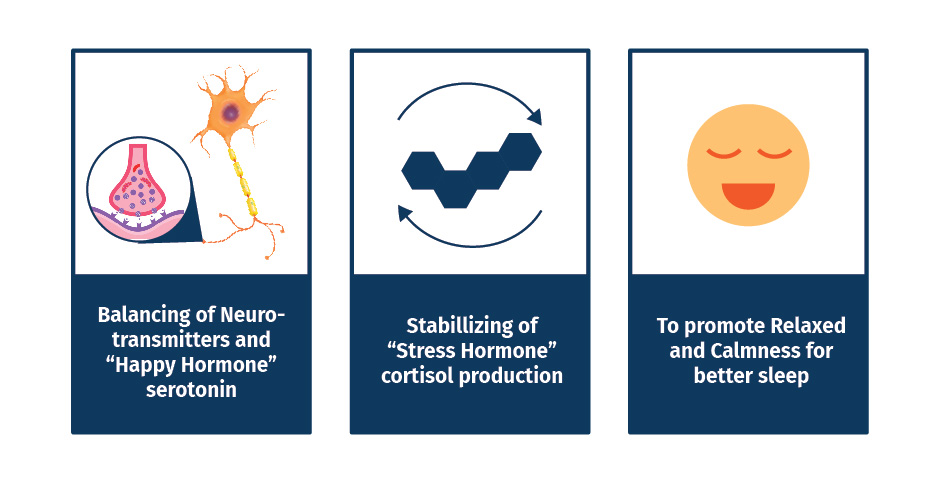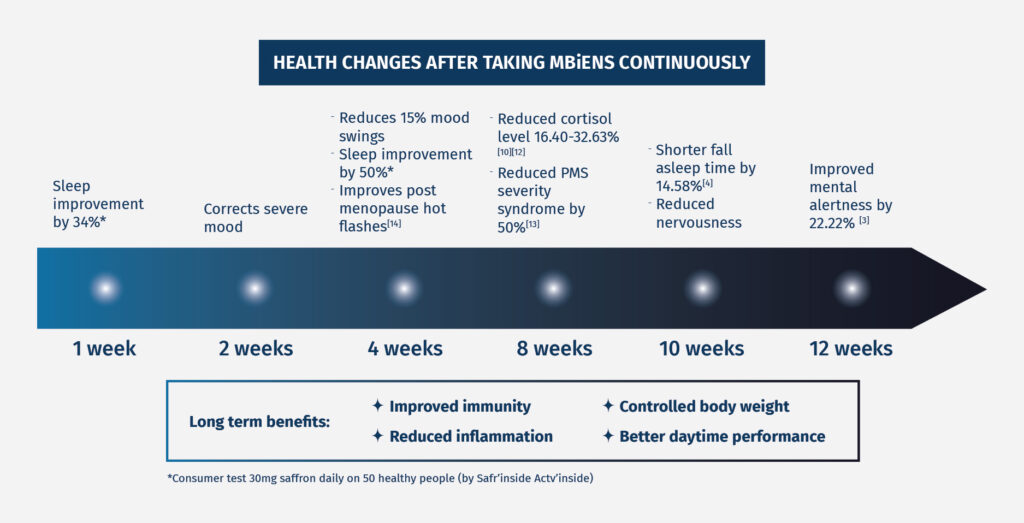 Strestonic⨁ MBiENS consists a blend of selected natural ingredients Saffron, Ashwagandha and Magnesium.
Key Ingredients
Saffron Extract

Saffron extract

The active compounds in saffron extract balance brain neurotransmitters (GABA, serotonin), hence restores balanced and positive mood.
Saffron able to keep "happy hormone" serotonin in the brain longer, thereby enhancing its positive effect on mood.

Clinical proven efficacy on moods: studies

(Akhondzadeh et al., 2005; Jackson et al., 2012)

Saffron extract also provides positive effect on moods and depression within a week's time without any adverse effects.

(Noorbala et al., 2005)
Ashwagandha

Ashwagandha

Also known as 'Indian Ginseng', Ashwagandha is known for its significant sleep quality improvement.
For example, a better sleep quality impacts wakefulness during day time.
Ashwagandha intake also helps to lower the "stress hormone" cortisol level.

Clinical proven efficacy on sleep quality: studies

(Langade et al., 2019; Cooley et al., 2009)

Besides that, non-restorative sleep (NRS) affects 10% people worldwide, leading to poor sleep quality, as well as physical and cognitive fatigue, and may result in other sleep disorders.
Supplementation of Ashwagandha root extract significantly improves sleep quality.

(Langade et al., 2019; Cooley et al., 2009)

A 72% increase in sleep quality was found for the treatment group, compared with 29% in the placebo group (p < 0.001) (Deshpande et al., 2020).
Magnesium

Magnesium

One of the essential minerals that plays important roles in our body, especially on the Central Nervous System functioning, as well as other physiological functions.
Magnesium is known for calming effect which supports better sleep, where it regulates the release of stress hormone to the brain.
However, magnesium can be lost through excretion during stress and anxiety. Individuals with anxiety have been found to have lower levels of magnesium.
Therefore, magnesium citrate in MBiENS is highly bioavailable form that is easily absorbed by the body.

Known as the 'Calm mineral', Magnesium is it is required for more than 300 biochemical reactions, as well as for specific actions in various organs such as the neuromuscular or cardiovascular system.
Magnesium helps the body to maintain healthy levels of GABA, thus allowing for more restorative sleep. Hence, GABA can help calm both body and mind while you prepare for sleep.
Serving direction and suggestions:
May consume directly from the sachet or mix with 75ml of water (room temperature). To be taken before a meal.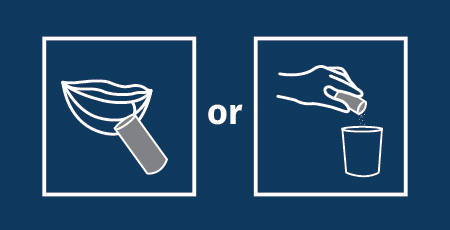 Recommended serving:

2 sachets daily (*to observe optimum effect of improved sleep quality in after one week's time. Please note that the result varies in different individuals).
For maintenance, 1 sachet daily suggested.
References:
Akhondzadeh, S., Tahmacebi‐Pour, N., Noorbala, A.A., Amini, H., Fallah‐Pour, H., Jamshidi, A.H. and Khani, M., 2005. Crocus sativus L. in the treatment of mild to moderate depression: a double‐blind, randomized and placebo‐controlled trial. Phytotherapy Research: An International Journal Devoted to Pharmacological and Toxicological Evaluation of Natural Product Derivatives, 19(2), pp.148-151.
Faryadi, Q., 2012. The magnificent effect of magnesium to human health: a critical review. International Journal of Applied, 2(3).
Jackson, P.A., Forster, J., Khan, J., Pouchieu, C., Dubreuil, S., Gaudout, D., Moras, B., Pourtau, L., Joffre, F., Vaysse, C. and Bertrand, K., 2020. Effects of Saffron Extract Supplementation on Mood, Well-Being, and Response to a Psychosocial Stressor in Healthy Adults: A Randomized, Double-Blind, Parallel Group, Clinical Trial. Frontiers in nutrition, 7.
Kelgane, S.B., Salve, J., Sampara, P. and Debnath, K., 2020. Efficacy and Tolerability of Ashwagandha Root Extract in the Elderly for Improvement of General Well-being and Sleep: A Prospective, Randomized, Double-blind, Placebo-controlled Study. Cureus, 12(2).
Langade, D., Kanchi, S., Salve, J., Debnath, K. and Ambegaokar, D., 2019. Efficacy and safety of Ashwagandha (Withania somnifera) root extract in insomnia and anxiety: a double-blind, randomized, placebo-controlled study. Cureus, 11(9).
Möykkynen, T., Uusi-Oukari, M., Heikkilä, J., Lovinger, D.M., Lüddens, H. and Korpi, E.R., 2001. Magnesium potentiation of the function of native and recombinant GABAA receptors. Neuroreport, 12(10), pp.2175-2179.
Nielsen, F.H., 2015. Relation between magnesium deficiency and sleep disorders and associated pathological changes. In Modulation of Sleep by Obesity, Diabetes, Age, and Diet (pp. 291-296). Academic Press.
Noorbala, A.A., Akhondzadeh, S.H., Tahmacebi-Pour, N. and Jamshidi, A.H., 2005. Hydro-alcoholic extract of Crocus sativus L. versus fluoxetine in the treatment of mild to moderate depression: a double-blind, randomized pilot trial. Journal of ethnopharmacology, 97(2), pp.281-284.
Shahdadi, H., Balouchi, A. and Dehghanmehr, S., 2017. Effect of saffron oral capsule on anxiety and quality of sleep of diabetic patients in a tertiary healthcare facility in southeastern Iran: A quasi-experimental study. Tropical Journal of Pharmaceutical Research, 16(11), pp.2749-2753.